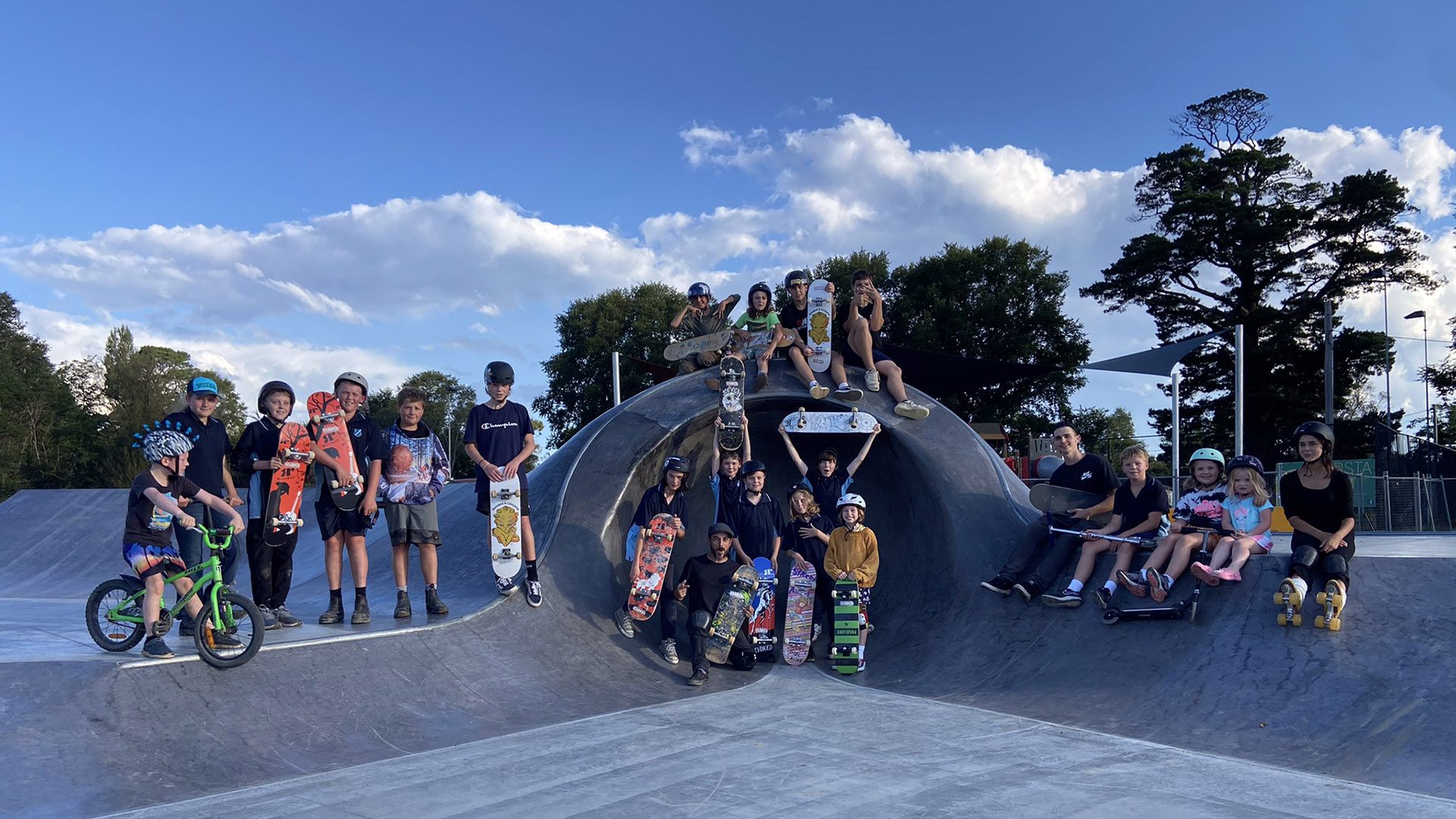 The Braidwood community is announcing the launch of its new skatepark. Respect Park is an inclusive community space that seeks to put Braidwood on the action sports map.
30 years of advocacy for the Braidwood Skatepark has finally paid off!
The community of Braidwood was impacted by the Black Summer Bushfire events of 2019-2020. Braidwood Youth Performing Arts Association received funding through the Bushfire Local Economic Recovery Fund, co-funded by the Australian and NSW governments to build this much-needed facility for young people of the district and other skaters.
Beyond the boost during the construction phase itself, the new skatepark will strengthen Braidwood's economy by attracting skate tourists from far and wide.
Additional funding came from Veolia Mulwaree Trust and project management support from Queanbeyan Palerang Regional Council (QPRC). The unique and exciting park was built by Grind Projects, and it now forms the heart of a new family recreation venue with barbeque and drinking fountains to enhance the Braidwood Recreation Ground's amenities.
The project was delivered by the Braidwood Youth Performing Arts Association and the Braidwood Community Association with extensive support from Revoked Mob Australia and included a great deal of financial and volunteer contributions from the Braidwood community.
Community funding from – Braidwood Quilters, Braidwood Lions Club, Braidwood Community Bank, Braidwood Uniting, Red Cross, and everyone who bought a raffle ticket.
On behalf of the community and all partners, we are proud to announce the opening of Respect Park, the Braidwood Skatepark!
Join the international skateboard community on Saturday 25 February 2023 to celebrate the opening of the new facility.
Event Date: Saturday 25 February 2023
Event Times: Activities from 10:30 am, Official Opening at 1:30 pm
Annie Duke, Catherine Bell, and Sue Murray took on the role of advocating for the new facility:
Annie Duke, President of the Braidwood Youth Performing Arts Association – quote:
"Representing BYPAA it's natural to advocate for issues impacting young people in our community. The lack of a skate park was a major issue. I doubt I would have put my hand up for this task if I had known how much work was involved. But already, seeing the excitement among the local skate community and the sheer number of skaters using the new park, young and old, on all kinds of wheels, it has all been completely worth it. Without a speck of doubt! This is a significant addition to Braidwood's urban landscape, and it has young people at its core."
Nathan Pharaoh runs Revoked Skateboarders a not-for-profit organization whose sole mission is to enable kids to access what is fast becoming one of the most inclusive and diverse sports.
Quote from local resident and lifelong skateboarder – Nathan Pharaoh
"I have been skateboarding from a young age, when I had the opportunity to be a part of the new facility I quickly jumped at the chance to be able to support"
 "Not everyone wants to join organized sporting activities, skateboarding allows freedom of expression and empowers many to join a worldwide phenomenon. Having such a world-class facility in such a small town will encourage others to reach their full potential. We have already managed to give 40 skateboards to our local community".
"Skateboarding has grown from its origins and is now an Olympic sport. The degenerate perceptions have long since been shed."
"Many worldwide organizations and communities have contributed to fostering a safe space for kids to express themselves in the most positive and creative way. Skateboarding is about progression and togetherness."
Quote from Nichole Overall MP, Member for Monaro:
"The $680,000 in joint funding from the NSW and Federal Governments has helped bring this top-class skate park to Braidwood," Mrs Overall said.
"It's another great example of how the Bushfire Local Economic Recovery Fund is making a difference to regional NSW."
"Congratulations to the Braidwood community for their continued efforts, including with various funding events that have taken place, and I hope members of our community enjoy it immensely."
Background:
Braidwood residents have been advocating for this facility since the mid-1980s
With careful planning and consultation, the design of the park was realized including workshops with local youth coupled with design from top skateboarding designers and builders to create the final product.
The project has been funded under the Bushfire Local Economic Recovery Fund, co-funded by the Australian and NSW governments after the events of the 2019-2020 black summer.
The entire community has banded together to create this space.
The launch will include workshops from Spinifex and Songlines professional indigenous skate teams and seeks to set a benchmark for inclusion. Canberra based Trilogy skate shop is also sending its team for the event.
The one-day event will include learning to skateboard workshops, an official ribbon cutting, and a line-up of local and interstate artists who contribute to the cultural landscape. Local artists Lily Morris and Band, the Nick Munnings Band, and Canberra-based Kirklandd will round out the entertainment.
Skateparks foster innovation and respect, you do not need to be a good skater to contribute, the culture of skateboarding has developed to allow artists to perform and create, fostering cottage industries, supporting respectful conversation, and tapping into a global zeitgeist that perpetuates awesome.
We celebrate Braidwood for its resilience, achievement, and advocacy for how great design and civic development can encourage new beginnings.
For more information contact Nathan Pharaoh [email protected] 0437865062
---